EPOSTL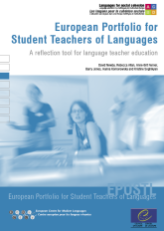 The EPOSTL is the result of project that was part of the Medium Term Program 2004 - 2007 at the European Centre for Modern Languages (ECML) in Graz and was coordinated by Univ.-Prof. Dr. David Newby, the former head of the ELT section at the University of Graz. This unique document comprised of a series of self-reflection items designed to help teachers to self-assess their competences is a valuable integral part of our ELT courses. It has also been translated into more than 40 languages and is used in teacher trainer courses throughout the world.
The European Portfolio for Student Teachers of Languages (EPOSTL) is a document for students undergoing initial teacher education. It will encourage you to reflect on your didactic knowledge and skills necessary to teach languages, helps you to assess your own didactic competences and enables you to monitor your progress and to record your experiences of teaching during the course of your teacher education.
The EPOSTL contains the following sections:
A personal statement section to help you, at the beginning of your teacher education, to reflect on general questions related to teaching;
A self-assessment section, consisting of 'can-do' descriptors, to facilitate reflection and self-assessment;
A dossier, in which you can make the outcome of your self-assessment transparent, to provide evidence of progress and to record examples of work relevant to teaching;
A glossary of the most important terms relating to language learning and teaching used in the EPOSTL;
An index of terms used in the descriptors;
A users' guide which gives detailed information about the EPOSTL.